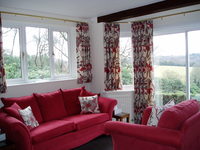 About Me
Where I work
I see my clients at my home in a pleasant location. The room is comfortable and private. It is pictured on the right.
My Background and Professional Experience
I trained as a psychotherapist at the Gestalt Centre London. Their standards are very high and the training to achieve a masters degree and registration with the UKCP takes a minimum of 5 years. I achieved these qualifications in 2000. Before graduating as a psychotherapist I worked as a counsellor for a local counselling service then set up a therapy practice at my home in Haslemere and in London. In this way I gained valuable experience of working with people seeking help with a wide range of problems.
In recent years, I have closed my practice in London and have concentrated entirely on working in Haslemere where I see clients for short or longer term therapy as well as working with couples, groups and supervisees.
My continued professional development
I am enthusiastic about the power of therapy to help people enrich their lives and so have been pleased to be able to expand my knowledge and skills by undertaking additional shorter trainings and workshops. I have trained with many internationally renowned psychotherapists including Carl Hodges (past president of the New York Gestalt Institute), Joseph Zinker, Malcolm Parlett, Irving and Miriam Polster, Sonia Nevis, Rich Hycner and Gary Yontef. This broader knowledge is particularly helpful in my work with trainee and qualified therapists or as a supervisor.
Professional Qualifications
MA Gestalt Psychotherapy, 2000; Diploma in Gestalt Psychotherapy and UKCP regisitration,2000: Diploma in Psychotherapy, 1994, Counselling Certificate 1989
Issues with which I have experience of working
Abuse

Addiction(s)

Affairs and betrayals

Anger Management

Anxiety

Bereavement

Cancer

Couples counselling

Depression

Eating disorders

Emotional abuse

Family issues

Lack of assertiveness

Lack of vitality

Psychosomatic disorders

Relationship issues at home or at work

Self harm

Separation and divorce

Sexual abuse

Stress

Suicidal thoughts

Trauma

Work related stress